About
The Japan Epidemiological Association (JEA) is an academic society established in 1991 to promote the exchange of ideas and discussion among members, as well as the development and advancement of epidemiological studies.
Japan has an extremely low birth rate and high survival rate, making it one of the most aged societies in the world. The resolution of increasingly complex health issues requires the knowledge, skills, and techniques of epidemiology, as well as the expansion of this field into areas such as the elucidation of causes of events related to health and disease; planning, execution, and evaluation of preventive measures; and modification and maintenance of social systems.
The promotion of and effective utilization of epidemiological findings requires input from not only prophylactic, clinical, nursing, and healthcare sciences but also from soft science fields, such as psychological, social, and political sciences. To this end, we believe the Japan Epidemiological Association is an ideal forum for the exchange of ideas among these disciplines.
We welcome the participation of a diverse range of personnel and researchers, including clinical doctors, dentists, pharmacists, nurses, public health nurses, dietitians, physical therapists, occupational therapists, psychologists, and both personnel engaged in and researchers of social sciences. We therefore wish to invite you to become a member of the Japan Epidemiological Association.
About membership of JEA (pdf:434KB)
About JEA (ppt:87KB)
About JE (pdf:764KB)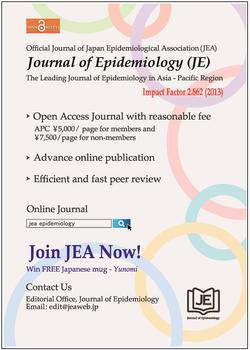 Journal
The Journal of Epidemiology (JE) is published bi-monthly with free access to papers via the following websites.
JSTAGE:https://www.jstage.jst.go.jp/browse/jea
PubMed Central: http://www.ncbi.nlm.nih.gov/pmc/journals/2072/
JE is included in the Index Medicus and publishes state-of-the-art epidemiological study results and epidemiological research outcomes from Japan, Asia, Oceania, and other areas.
We certainly appreciate your submission of the manuscript.
Japan Epidemiological Seminar
Next seminar will be held on August 30, 2014.
News Letter
Newsletter is published twice a year in order to exchange opinions of various members.
Other
JEA hosts a number of social activities, such as various committees, Japan Epidemiological Association Encouragement Award, and forum of young members.