Membership
The Japan Epidemiological Association is an academic society established in 1991 to promote the exchange of ideas and discussion among members, as well as the development and advancement of epidemiological studies.
Japan has an extremely low birth rate and high survival rate, making it one of the most aged societies in the world. The resolution of increasingly complex health issues requires the knowledge, skills, and techniques of epidemiology, as well as the expansion of this field into areas such as the elucidation of causes of events related to health and disease; planning, execution, and evaluation of preventive measures; and modification and maintenance of social systems.
The promotion of and effective utilization of epidemiological findings requires input from not only prophylactic, clinical, nursing, and healthcare sciences but also from soft science fields, such as psychological, social, and political sciences. To this end, we believe the Japan Epidemiological Association is an ideal forum for the exchange of ideas among these disciplines.
We welcome the participation of a diverse range of personnel and researchers, including clinical doctors, dentists, pharmacists, nurses, public health nurses, dietitians, physical therapists, occupational therapists, psychologists, and both personnel engaged in and researchers of social sciences. We therefore wish to invite you to become a member of the Japan Epidemiological Association.
About membership of JEA (pdf:370KB)
About JEA (ppt:87KB)
About JE (pdf:889KB)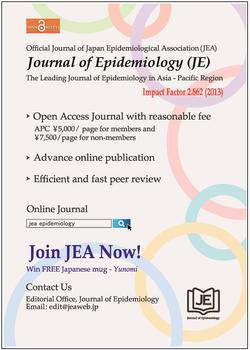 Benefits
Benefits for members of JEA regarding the Journal of Epidemiology (JE) (Impact Factor in 2015: 2.546
The JE is published bi-monthly with free access to papers via the following website.
JSTAGE:https://www.jstage.jst.go.jp/browse/jea
PubMed Central:http://www.ncbi.nlm.nih.gov/pmc/journals/2072/
Members of the JEA will receive the following:
Discounted publication fee for the JE
70,000 yen/article for members vs. 120,000 yen/page for non-members
Discounted annual subscription fee for the print version of the JE
7,000 yen/year for members (including domestic shipping) vs. 22,800 yen/year for non-members (including domestic shipping)
Annual fees
Ordinary member
9,000 yen
free for students for the first year
Councilor
12,000 yen
Supporting member
from 50,000 yen
Join JEA

Please click on the above button "Membership" and provide the required information for membership application.
Please send your CV to the Secretariat by fax or e-mail.
E-mail:jea@jeaweb.jp Fax: +81-3-3814-6216
The first year's membership fee will be waived for students who submit a copy of student ID.
An invoice for the annual membership fee will be sent from PayPal to your registered e-mail address.
* The fiscal year of the Japan Epidemiological Association is January 1 to December 31.
After confirmation of payment, a completion notice will be sent by the Secretariat to your registered e-mail address.