Travel Grants
Travel Grants for the 27th JEA Annual Scientific Meeting in Kofu
The 27th JEA Annual Scientific Meeting:
Reports from the travel grants winners in 2017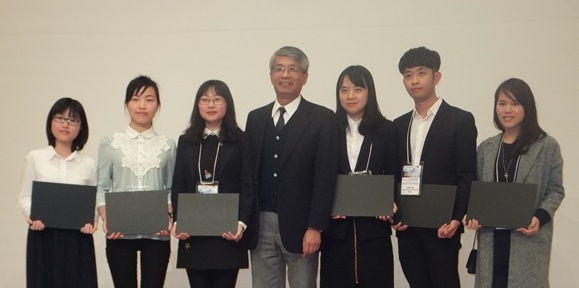 About Travel Grants (pdf: 80KB)
The JEA Annual Scientific Meeting is the main scientific conference of our society, attracting approximately 700 scientists and students in the epidemiology and related fields. The annual meeting takes place in January or February and is held in Japan.

The travel grants are available to support students/young researchers and JEA non-Japanese members living outside of Japan who wish to attend the meeting as an oral presenter.
A total of 100,000 Yen is awarded to each of the 7 recipients.

The winners will be announced at the reception on February 2 from 18:30 to 20:30pm and expected to attend an afterparty from 21pm to boost exchanges among members. The reception, of course, will be free for the recipients.

The application deadline: September 30, 2016 for the JEA 2017 annual meeting in Yamanashi.
Application Criteria
The applicant must
• be non-Japanese member of the Japan Epidemiological Association (JEA)
• live outside of Japan
• not belong to organizations in Japan
• be younger than 40 years old
• have never received the JEA travel grant
• be registered for the meeting and fully paid before or at the meeting
• be the first author to present a paper at the JEA annual meeting (Clinical study is not a subject area for the support.)
• submit a letter of recommendation from his/her supervisor (who can recommend only one person)
To join JEA
(Student membership fee is waived for the first year of registration.)
Required documents
The following should be submitted with your application:
• a copy of the confirmation email that was sent to you when you submitted your abstract for the meeting
• a copy of the confirmation email that was sent to you when you registered for the meeting
• a letter of recommendation from his/her supervisor
How to apply
Our 2017 Annual Meeting will take place in Kofu city (SEE map) between 25 and 27 in January 2017.
Forms can be downloaded here: The JEA Travel Grant Application Form.
The deadline is September 30, 2016.
Please note that the late applications will not be accepted.
Award Terms and Conditions
Awards must be claimed no later than 1 month after the meeting has taken place.
For your reference, below is the reports from the travel grants winners for the past JEA Annual Scientific Meeting.